Official representative of the International Eurasia Press Fund (IEPF) to the United Nations Office in Geneva, Switzerland, Osman El-Hajje had an official meeting with Karima Bennoune, Special Rapporteur in the field of cultural rights and spoke about the situation around Armenia-Azerbaijan Nagorno-Karabakh conflict.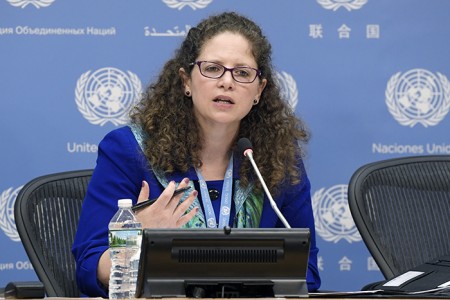 Osman El-Hajje spoke about the Armenian occupation of 20% of Azerbaijani lands, including Nagorno-Karabakh and 7 surrounded regions and explained how the situation is serious and dangerous for the cultural and religious heritage because Armenia does not hesitate to destruct them on the occupied territories.
The IEPF representative also informed UN Special Rapporteur how the problem is serious and require immediate attention from the world community as it concerns millions population of Azerbaijan, including almost 1.2 million of refugees and IDPs appeared in result of the Armenian occupational policy against Azerbaijan.
Osman El-Hajje presented a written statement of the IEPF submitted in the framework of the 43rd session of the Human Rights Council and now available among the official Human Rights documents on the website. The statement entitled "Cultural and religious heritage destruction in conflict zones" contains the information on material, cultural and religious sites destroyed by Armenia on the occupied territories of Azerbaijan. It urges the Human Rights Council and every state to pay close attention to the situation of the destruction of cultural heritage and property elements in those war zones including occupied territories such as Azerbaijan.